Heroes come in many forms. All come to our rescue in unexpected ways. Sometimes, just the hero's story is inspiration enough to impact our life and propel us forward. Other times, it's just plain entertaining.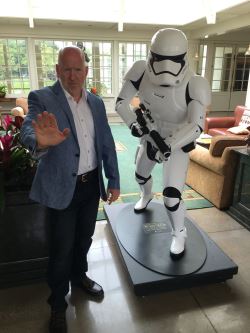 Chuck Fields
Software innovator, award-winning marketer and astronomy buff.
I'm Chuck Fields, the host of Your Online Coffee Break.
I have more than 20 years of experience in application development, business analysis, marketing and project leadership.
I fell in love with astronomy at a young age, where I ventured into astrophotography and had my first photo published internationally at the age of 15. I started my career as a marketing director, where I did some pretty wacky PR stunts like having a dinosaur run lose through a city before we cornered it (with the help of local police) on the roof of a downtown building.
I also fell in love with technology and computer programming, eventually starting my own web development consulting company in 2006. It's here where I found that sometimes you need to take a break from the busyness of life in order to see clearly. Hence came the birth of Your Online Coffee Break.
So step back, sip that coffee, and browse through our podcasts that will hopefully inspire you, educate you, or entertain you (maybe all three!).
Subscribe to stay up-to-date and never miss an episode!